10 Most Popular French Desserts
---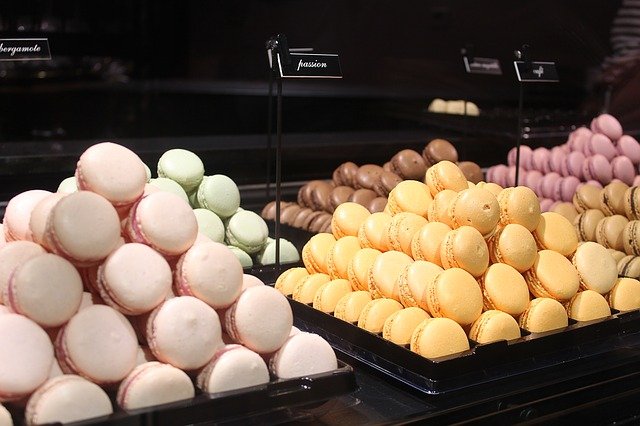 MACARONS
These small, round, sweet meringue-based macaroons, filled in the center, are light and crisp on the outside and soft in the center. Macaroons are the most popular type of cookie in Paris. They are also popular in the rest of the world. They appear with different fillings and in various sizes, colors and flavors.
CRÈME BRULÉE
Crème brûlée is one of the most popular French desserts of all time, and for good reason. The two contrasting layers of luscious vanilla cream under a layer of crunchy caramelized sugar are a perfect marriage. This dessert stands out from all the rest.
Even better: you'll be surprised at how simple it is to make a Crème Brûlée in your own kitchen. All you need are 4 ingredients: eggs, heavy cream, sugar and vanilla.
PARIS-BREST
The Paris-Brest, a delicate ring-shaped choux pastry filled with hazelnut praline mousseline cream. It is certainly the queen of French pastries! The crisp choux pastry is tied to the silky, hazelnut mousseline cream filling in my classic French recipe.
The addition of praline paste and toasted hazelnuts to the filling adds an extra crunch, making this Paris-Brest one of the most impressive desserts of all.
MILLE-FEUILLE
"The French name for this pastry refers to the large number of pastry sheets that make up each cake."
It consists of a slice of vanilla or custard placed between pieces of puff pastry. It is usually topped with chocolate cream.
FRENCH TOAST
If you want a dessert for breakfast, this is a classic. French toast is a pan-fried dish dipped in a mixture of eggs and milk. Top it with powdered sugar, fresh fruit, coconut shavings or maple syrup, and you're in for a treat!
You can use any type of bread – white, raisin, or whole wheat.
TATIN CAKE
This is a cake named after the hotel that serves it as a signature dish. Tarte Tatin is not an ordinary fruit tart. It is an upside down dessert in which the fruit (usually apples) has been caramelized in butter and sugar before being baked into the pie.
CANELÉ
When it comes to pastries, there is no more "French classic" than cannelés. They come from the Bordeaux region of France, where they are a regional pride. And rightly so, as they are an absolutely delicious accompaniment to tea, breakfast or dessert.
They are surprisingly simple pastries, requiring only the basic ingredients: milk, flour, eggs, butter, sugar and vanilla. But baking them at high temperatures in fluted pans transforms them from a liquid dough into deep golden brown treasures flavored with rum and vanilla.
PROFITEROLES
These are French choux pastry balls with a typically sweet and moist filling of whipped cream, custard or ice cream. The puffs can be decorated or left plain or topped with chocolate sauce, caramel or a dusting of powdered sugar.
CRÊPEs
Pancakes are very popular not only in France, but also in other countries! Why? It is a versatile dessert that requires simple ingredients. Every year, on February 2nd, we celebrate Crêpe Day. On this day, almost every French family takes the time to eat crepes. These thin French crepes can be served with just about any topping.
CHOCOLATE ÉCLAIR
This is a choux pastry shape filled with cream and covered with a chocolate glaze. The pastry, which is the same as that used for profiteroles, is usually shaped with a pastry bag and baked until it is crisp and hollow inside.
TROPÉZIENNE PIE
This pie is not a typical pie. A tarte tropézienne is more like a donut baked and filled with custard. The cake-like part of the pie is made of brioche dough. It is therefore not necessarily sweetened. The pastry cream is of course sweetened, making it a dessert of sorts, although the French eat this pie as a snack or pick-me-up in the afternoon.
Follow us on Instagram: ghn.paris